At our facility in Ghent, the Logos Foundation has an small shop where different materials related to new and experimental music, including electroacoustic musics, can be obtained. Since the shop is a non-profit activity, prices can be expected to be moderately low. We do not store items that are commonly available. The quantities we have available at any time, are limited also. Prices are expressed in Euro.

Items dan also be sent; us for shipping prices

The shop can be visited monday - friday, 9h00 - 17h00 (please, make an before coming) and before/after the concerts in the Tetrahedron Hall.

Details can be obtained via .

Items we carry are: Select category from list below:

Link to Logos' own LPD label: covering the artists: Godfried-Willem Raes, Moniek Darge, Kristof Lauwers, Kris De Baerdemacker, Konstantin Gockel, Peter Jacquemyn, Karin Defleyt, Marc Maes, Tom Pauwels, Tomma Wessel, Emilie De Vlam, Andrew De Masi, Piet Van Boxtal, Barbara Buchowiec, Sebastian Bradt, Thomas Smetryns, Heleen Van Haegenborg, Jan Pillaert, Lies Gellynck, Warren Burt, Hans Roels, Yvan Vander Sanden, Dominica Eyckmans, Marcel Ketels, Dirk Moelants, Ludwig Van Gijsegem, Stefaan Smagghe, Troy Rogers, Laura Maes...

list last updated

ARTIST
TITLE
PRICE
(Euro)
IN STOCK
REF.

A

JOHN LUTHER ADAMS
EARTH AND THE GREAT WATER
16.40
1
NEW WORLD 80459-2
JOHN LUTHER ADAMS
CLOUDS OF FORGETTING
16.40
3
NEW WORLD 80500-2
THE AERIAL #2
13
1
AER
THE AERIAL #5
16.50
1
AER
THE AERIAL #6
16.50
2
AER

B

MILTON BABBITT
PHILOMEL
16.50
1
NEW WORLD 80466-2
LLORENC BARBER
LINGUOPHARINCAMPANOLOGY
15
2
hyCD-19
LLORENC BARBER
CONCIERTO PARA CAMPANARIOS
15
2
hyCD-6
BMB CON
#7
MiniCD 7.50
1
MICHELE BOKANOWSKI
TABOU
miniCD 5
1
MKCD003
CHRIS BROWN
SNAKECHARMER
12.50
2
ART 1001

C

TWENTIETH CENTURY CANADIAN CHAMBER MUSIC
12.50
1
queen 9101
JOHN CAGE, WALTER HUS, E.SATIE
S. INAGAKI - K. NAKAGAWA pianoduo
14.9
4
-
JOHN CAGE
COMPLETE STRING QUARTETS Vol.1 (Arditti)
17.50
2
mode 17
JOHN CAGE
THE PIANO WORKS I (S. Drury)
16.25
1
mode 47
JOHN CAGE
THE PIANO WORKS 3 (S. Drury)
20
2
mode 63
JOHN CAGE
EUROPERA 5
15
1
mode 36
JOHN CAGE
MUSIC FOR MERCE CUNNINGHAM
14
1
mode 24
JOHN CAGE
DOUBLE EDGE piano duo
15.40
2
CRI 732
JOHN CAGE/DAVID TUDOR
RAINFOREST II/MUREAU
2 CD 32.20
2
new world 80540-2
GENE CARL
GRAY MATTER
12.50
2
X-OR 04
Cassatt String Quartet
T. DAvidson, J. Wolfe, A. Wagonner, E. Hovda, D.S. Godfrey
17.40
1
CRI 671
JOSEPH CELLI
VIDEO EARS
16.25
1
00
JOSEPH CELLI - JIN HI KIM
NO WORLD IMPROVISATIONS
15
2
00
JOSEPH CELLI - JIN HI KIM
NO WORLD TRIO IMPROVISATIONS
15
1
00
X. CHARLES, D. LABROSSE, KRISTOFF K. ROLL
16
1
VICTO
MARY ELLEN CHILDS
KILTER
14.90
1
XI 114
MICHEL CHION
CREDO MAMBO
miniCD 5
1
MKCD004
Circular Firing Squad
Oxide
16.50
1
art 1017
COMMON SENSE
COMPOSERS' COLLECTIVE
17
2
CRI 731

D

TED DANIEL
IN THE BEGINNING
12.50
4
ALTURA
IVOR DARREG
DETWELVULATE!
16.30
1
Ivan Davis
The Wind Demon & other 19th.C. piano music
11.20
1
new world 80257-2
DEBLASIO, RULON, KAMINSKY
AND TROUBLE CAME
15.40
2
CRI 729
DECISIVE MOMENTS
(M. Snow, P. Dutton, J. Oswald,...)
14.90
1
tlr 02
DENMARK'S INTUITIVE MUSIC CONFERENCE
16
3
DIMC001
TOD DOCKSTADER
WATER MUSIC
19
1
st201

E

EARTHBOUND
B.Barnett, F.Studer, H.Buhler
14.90
3
for 4 ears
THE ELECTRONIC HAMMER
HOW TO PHILOSOPHIZE WITH A HAMMER
15
1
EMFCD067

F

FAST FORWARD
SAME SAME
14.90
2
XI 106
FURT
LIVE IN AMSTERDAM 1994
12.50
1
X-OR

G

KENNETH GABURO
TAPE PLAY
15
2
POGUS21020-2
ORLANDO JACINTO GARCIA
LA BELLEZA DEL SILENCIO
14.90
1
00
STEFANO GIANNOTTI
LA CITTA SONORA
14.90
1
momus 010
STEFANO GIANNOTTI
NUOVE MUSICHE DAL TEATRO DEL FARO
14.90
1
momus 003
JON GIBSON
VISITATIONS/THIRTIES
17.50
1
new tone 6747 2
MALCOLM GOLDSTEIN
THE SEASONS - VERMONT
15
2
XI 120
DANIEL GOODE
CLARINET SONGS
14.90
2
XI 113
CHRISTINE GROULT
L'HEURE ALORS S'INCLINE
miniCD 5
2
MKCD006
TOM GURALNICK
BROKEN DANCES FOR MUTED PIECES
17.50
2
WN0017

H

TOM HAMILTON
OFF-HOUR WAIT STATE
13.70
3
0026
The Harmoneion Singers
Where home is
11.20
1
new world 80251-2
ROBERT HEPPENER
TRAIL/MEMENTO/ BOOG
15
1
Donemus 62
Carl Ludwig HUBSCH
119 ARTEN ZU BEGINNEN
16.90
1
NURNICHTNUR

I-J

GUUS JANSSEN
NOACH
2CD 32.25
1
donemus 42/43
TOM JOHNSON
MUSIC FOR 88
15
2
XI 106
SETH JOSEL (guitar)
LONG DISTANCE
15
1
CRI 697
PHILIPPE JUBARD
1998
15
3
jub

K

KARL EIN KARL
KARL'S FEST
16.25
1
UTR 4039
MAX E. KELLER
KAMMERMUSIK
16.90
1
col legno AU 03801
Aaron Jay Kernis
Love Scenes
17.40
1
CRI 635
DANIEL KIENTZY L'ART DU SAXOPHONE (2-CD BOX)
25
1
NMCD5101
D. KIENTZY - H. SURIANU
SAXOPHONE CONCERTO
15
1
NMCD5111
KIENTZY INTERPRETE IOACHIMESCU
15
1
NMCD5119
KIENTZY TELECTU PORTUONDO - ACUSTICA AMOROSA
15
1
NMCD5112
KIENTZY A CLUJ
15
1
NMCD5105
TRIO PROMOZICA - ECHO MEMO
15
1
NMCD5122
GEERT VAN KEULEN
TUMPAN/ ARMONIA/ SCENA/ VIOLIN CONCERTO
15
2
Donemus 33
PAUL KLINCK & DAAN VANDEWALLE (VARIOUS COMPOSERS)
CHAMP DE BATAILLE
16.50
1
PKP 003
GUY KLUCEVSEK
TRANSYLVANIAN SOFTWEAR
16.50
1
JMR4
JEFFREY KRIEGER
ELECTRONIC CELLO
15.50
2
CRI 680

L

JOAN LA BARBARA
SHAMANSONG
15
1
new world 80545-2
ANNE LA BERGE
BLOW
12.40
3
frog peak
David LANG
ARE YOU EXPERIENCED
1
Alcides LANZA - Meg SHEPPARD
TRILOGY
12.70
1
ESP
MARY JANE LEACH
ARIADNE'S LAMENT
15.50
2
new world 80525-2
ANNE LEBARON
MUSICAL RAILISM
19
2
mode 42
ANNE LEBARON
RANA, RITUAL & REVELATIONS
15
1
mode 30
Tania Leon
Indigena
15
1
CRI 662
LOGOS
WORKS
12
50
XI 117
LOGOS
Archives 1974-1981 Double LP
17
20
Sub Rosa

M

Machine messages
(computer music Warren Burt ea)
12.50
1
Curtis Macomber (violin)
Songs of Solitude
15.40
2
CRI 706
CHRIS MANN AND THE IMPEDIMENTS
15
1
LIONEL MARCHETTI
MUE
miniCD 5
3
MKCD007
RICCARDO MASSARI SPIRITINI
IL SOGNO ED IL MARTELLO
12.00
3
AH137
MAXWELLS DAEMON
NEFASTISMASCHINE
13.70
2
HYBRID 12
GILBERTO MENDES
SURF, BOLA NA REDE...
13.70
1
MARTHA MOOKE
ENHARMONIC VISION
14.90
2
VMP 80301

N

THE NEVERMET ENSEMBLE
QUARTO ESCURO
15
1
RUD003
PHILL NIBLOCK
FOUR FULL FLUTES
13
1
XI 101
PHILL NIBLOCK
YPGPN
13
1
XI 121

O

DORA OHRENSTEIN
URBAN DIVA
17.50
2
CRI 654

P

CHARLEMAGNE PALESTINE
STRUMMING MUSIC
17.40
1
pal
PAUL PANHUYSEN
PARTITAS FOR LONG STRINGS
15
2
XI 122
CORNELIA PETROIU - MIRABILA VIOLA
15
1
HEIN PIJNENBURG
BARBAARSE DANS
13.70
2
POLANSKY, ROSENBOOM eo
HALLWAYS
16.20
4
FP002
LARRY POLANSKY
THE THEORY OF IMPOSSIBLE MELODY
15
1
NWR80684-2

R

ELIANE RADIGUE
KYEMA
15
1
XI 103
RADIUS #3
17.50
1
Radius WN0018
RADIUS #4
17.50
1
Radius WN0019
HORATU RADULESCU
INTIMATE RITUALS
15
1
&NBSO;
Hans-Karsten RAECKE
BILDER EINER AUSSTELLUNG
16.10
1
-
TERRY RILEY
PERSIAN SURGERY DERVISHES
2CD 21.25
1
Neil B. ROLNICK
ElectriCity
15
1
DANIEL ROTHMAN
CEZANNE'S DOUBT
15.40
2
William Russel:
Made in America (compl. works)
17.30
1
mode 34

S

SCHANZER - SPEACH
DUALITIES
11.40
1
MODE 02
PETER SCHAT
ANATHEMA
17
1
JEFF SONG - MATT TURNER
LOVE AND FEAR
15
2
00
BOWED PIANO ENSEMBLE
Sounding Landscapes
15
1
TROY649
JOHN SCHOTT
SHUFFLE PLAY ELEGIES FOR THE RECORDING ANGEL
18.60
3
NEW WORLD 80548-2
STUART SAUNDERS SMITH
CRUX
16.40
4
00
MARTIN SPEICHER
ERDTONE-NOTATION DES LOTS
13.70
1
hybrid
SPELLING ALPHABET
SPELLING ALPHABET
15
1
ACHMC 001
DOMINIQUE SPRIET - JACQUES DEREGNAUCOURT- FREDERIC GREGSON
TRIPTYCK
15
2
TRIP
ERWIN STACHE
HARMONIE DER NICHT GANZ...
19
1
WATZMANN 008
JOEP STRAESSER
Various pieces
15
1
Donemus 44
KATHLEEN SUPOVE
FIGURE 88
17.50
1
CRI 653

T-U

PAUL TERMOS
WORKS
12
1
X-OR

V

VANCOILLIE-MARTENS
NINE LAYERS OF ILLUSION
17.30
2
Highgate
HERMAN VAN SAN
SEXTET MICROSTRUCTURE SECTIONEN
15
7
EWR 9902
THEO VERBEY
NETHERLANDS RADIO CHAMBER ORCHESTRA
15
1
Donemus 66
MICHAEL VORFELD
SIEBEN FREUNDE
12.50
1
MICHAEL VORFELD
KLIMAZONEN
MiniCD 6.25
1

W-X-Y-Z

DIRK WACHTELAER
ELAC DRUMMING
12.40
2
A-SHAMS 9045
WITTWULF Y MALIK
LICHT-MUSIKEN
15
1
WITTWULF Y MALIK
MUSIKEN NACH NOTATIONEN
1
WES YORK
WES YORK
12.50
3
NEW WORLD 80439-2
YOUNG FARMERS CLAIM FUTURE
UNPLOUGHED
10
1
SR101
YUKO NEXUS6
JOURNAL DE TOKYO
16
1
SONORE
PETER ZUMMO
EXPERIMENTING WITH HOUSEHOLD CHEMICALS
15
1
XI 116
HUGH DAVIES: SOUNDS HEARD (CD INCLUDED) (25 Euro)
DANIEL KIENTZY: SAXOLOGIE (45 Euro - WITH 2 CD-BOX: 70 Euro)
SONUS CONTEMPORARY MUSIC MATERIALS (15 Euro)
JOEL CHADABE: "ELECTRIC SOUND" (22.50 Euro)
MUSIQUE EN JEU 14 (2.50 Euro)
MUSIQUE EN JEU 20 (2.50 Euro)
MUSIQUE EN JEU 21 (2.50 Euro)
ROGER SUTHERLAND: NEW PERSPECTIVES IN MUSIC (48 Euro)
JOSE BAUZA: JAZZ: GRABACIONES MAESTRAS (5 Euro)
JEROME ROTHENBERG: SHAKING THE PUMPKIN (24 Euro)
DOCUMENTA BELGICAE 2 (7.50 Euro)
JEROME ROTHENBERG: GEDICHTEN VOOR HET SPEL VAN DE LIEFDE (7.50 Euro)
JAN MYSJKIN: AFBRAAK IN AANBOUW, LEVENDE FRANSE POEZIE (6 Euro)
MONIEK DARGE: AUTO-AUTHOR (2.50 Euro)
DANIELE LOMBARDI: TO GATHER TOGETHER (5 Euro)
UNO SPETTACOLO DI LUCE (5 Euro)
HARRY PARTCH: BITTER MUSIC (32.25 Euro)
JAN MYSJKIN: SPEL VAN SPIEGELS IN BEWEGING (14.75 Euro)
TRISTES MODERNISTES (15.50 Euro)
JACKSON MAC LOW: WORDS ND ENDS FROM EZ (7.50 Euro)
WOORDENBOEK AKOESTIEK (1.25 Euro)
THE COMPLETE CHRIS MANN (+3 cassettes 50 Euro)
NAM JUNE PAIK: DU CHEVAL A CHRISTO ET AUTRES ECRITS (112.50 Euro)
MEGALOPOLIS ABORIGINES: TOKYO-OSAKA ACTION ART 1992 (6.25 Euro)
BART HOPKIN: MAKING SIMPLE MUSICAL INSTRUMENTS (25 Euro)
BART HOPKIN: MUSICAL INSTRUMENT DESIGN (15 Euro)
HERMAN SABBE: ALL THAT MUSIC (17.50 Euro)
MARC DELAERE e.a. 'Nieuwe Muziek in Vlaanderen' (15 Euro) (met CD)
GMT: algoritmic composition programming language by Godfried-Willem Raes - CD-ROM (25 Euro)
Godfried-Willem RAES <Obotek> (CD-rom with score and software) (25 Euro)
Godfried-Willem RAES <Lickstick> (CD-rom with score and software) (25 Euro)
Godfried-Willem RAES <Cohiba> (CD-rom with score and software) (25 Euro)
Godfried-Willem RAES <Zerhacker> (CD-rom with instructions and software) (25 Euro)
Godfried-Willem RAES <Panatella> (CD-rom witg score and software) (25 Euro)
Godfried-Willem RAES <WoodStock> (CD-Rom with score and software) (25 Euro)
LOGOS DUO: <Songbook> & <A Book of Moves> (VHS or Hi8, PAL, 20 Euro)
PHILIPPE JUBARD: REBONDS (percussion) (1.25Euro)
GODFRIED-WILLEM RAES: A BOOK OF FUGUES (20 fugues, together or separately...list on request)
KRZYSTOF KNITTEL: QUATRE PRELUDES POUR PIANO (7 Euro)
CARSON KIEVMAN: THE TEMPORARY & TENTATIVE EXTENDED PIANO (11 Euro)
ROBERT JANSSENS: MUTATIS MUTANDIS (piano & violin, or viola, or cello, or double bass) (11 Euro)
PIOTR LACHERT: DUREN COLLECTION - BELGIAN CONNECTION (suite pour piano) (10.50 Euro)
PIOTR LACHERT: RZEWSKI'S SPIEL & DOMINIQUE LAWALREE: THE LONG-HAIRED LADY (piano 6 hands) (7.50 Euro)
BOUDEWIJN BUCKINX, DOMINIQUE LAWALREE, PIOTR LACHERT: POETIC PIANO OF THE EIGHTIES (10 Euro)
PIOTR LACHERT: TE NE RICORDI? (cello) (6 Euro)
PIOTR LACHERT: ETUDES IMPROVISANTES pour piano (11 Euro)
PIOTR LACHERT: POUSSIERES DES ETOILES (piano) (6 Euro)
HENRIQUE MOROZOWICZ: VARIACOES FRERE JACQUES (piano)(7.50 Euro)
ROBERT JANSSENS: ZODIA (various instruments) (15 Euro)
VINCENT GHADIMI: NUTATIONS (clarinet & piano) (7.90 Euro)
PIERRE-PAUL RUDOLPH: CLIN D'OEIL (guitar)(6.25 Euro)
WIL OFFERMANS: FOR THE CONTEMPORARY FLUTIST - TWELVE STUDIES (20 Euro)
GODFRIED-WILLEM RAES: "HydroCePhallus" (for symphonic band) (12.50 Euro)
GODFRIED-WILLEM RAES: "Studies in Fuzzy Harmony" (stringed keyboard instrument) (3 Euro)
GODFRIED-WILLEM RAES: "Boxing" (string quintet, 2vl, vla,vcl.cb)(3 Euro)
GODFRIED-WILLEM RAES: "FriRick" (clavichord and soprano)( 5 Euro)
GODFRIED-WILLEM RAES: "Hidden {c}harms" (harmonium, bas, soprano) (3 Euro)
GODFRIED-WILLEM`RAES: "E10" (guitar) (2 Euro)
GODFRIED-WILLEM RAES: "Dynamo" for electric guitar and home trainer (5 Euro)
Second Hand electronic and other equipment (computers, instruments, tools…)
4kW Compressor, silenced, 10Bar. 3-phase motor.
New electronic equipment (Logotronics & Logosoft kits designed by dr.Godfried-Willem Raes)
Theremins: small portable model or large professional Moog versions.
Contact microphone (piezo) with preamp circuit, kit (30 Euro) more info (requires 9V battery, not included) [same model build and working: 50 Euro]
Professional quality contact microphone with phantom powered preamp and transformer balanced output (XLR female output) - build, ready to use: 250 Euro. We also design and make special mikes to be used as contact mike on the reed of clarinets and saxophones.
Quad professional piezo preamps with phantom powering and balanced outputs (500 Euro)
Invisible Instrument (inquire)
Acceleration devices with midi output.
Holosound installations (from 3000 Euro on)
Radar gesture sensing devices (Quadrada system by Logos) [ from 3000 Euro on]
PIC based radar devices with midi output (from 350 Euro on).
VCO's
Ringmodulators
Solenoid driver circuits for automated instruments
player piano circuits with PIC controllers
Experimental Musical Instruments
Optorgofoon Quad 100 Euro
Antique real brand Pianola (to be restored) 600 Euro
Oil paintings for sale:
Arie Van de Giessen (1896-1950)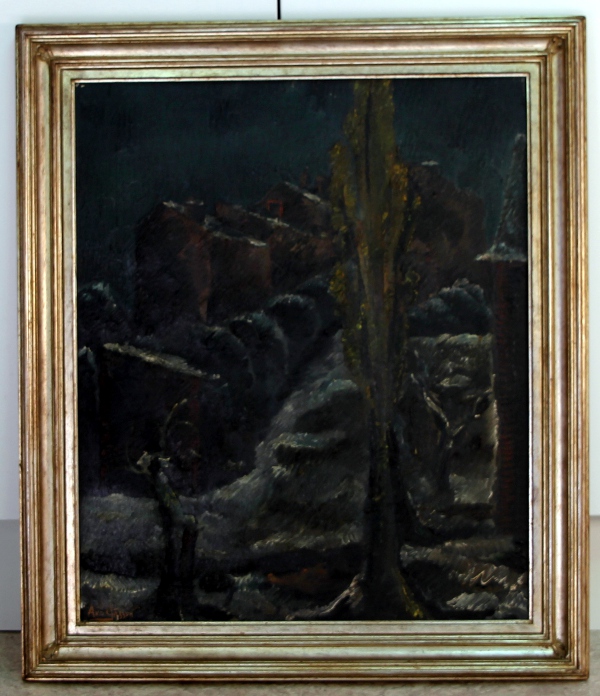 1000 Euro
Gilbert Baetsle (1921-1987)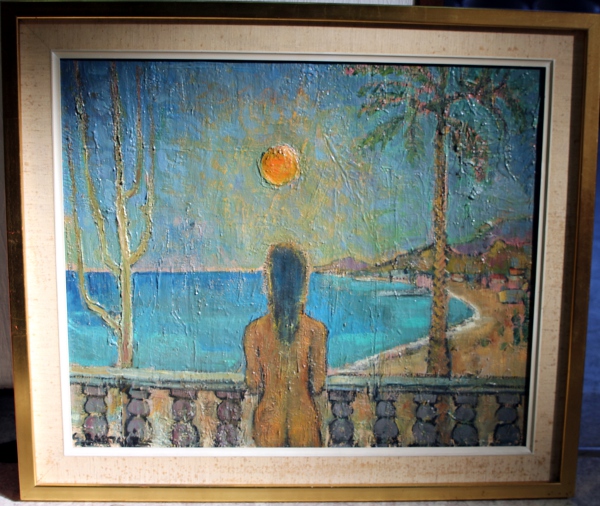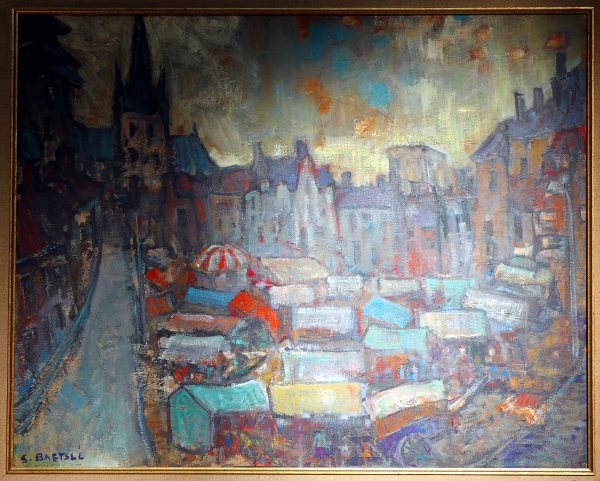 100 Euro each
Julien Vanlangenhove (1920-1986)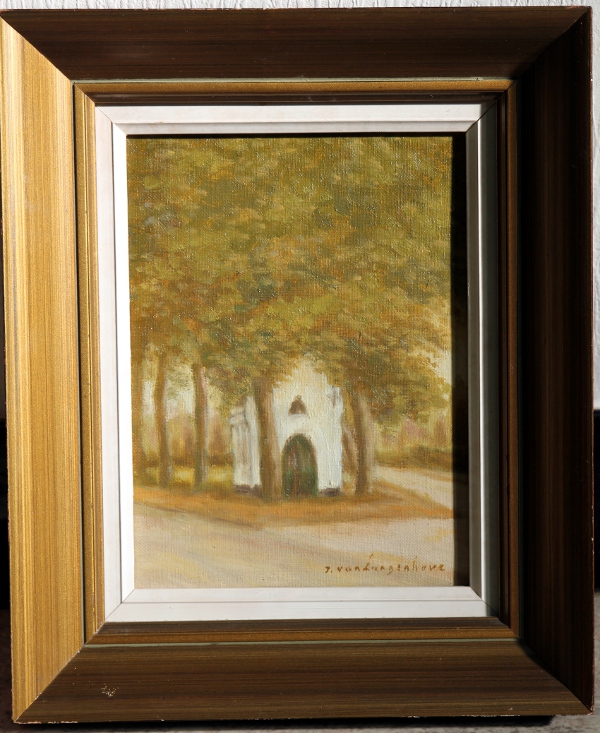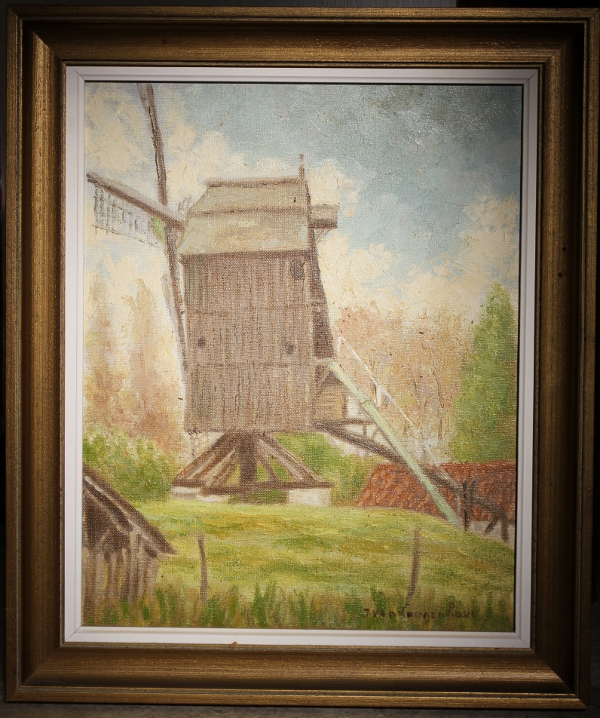 75 Euro and 100 Euro
Lippens:
75 Euro
Frans Noppe: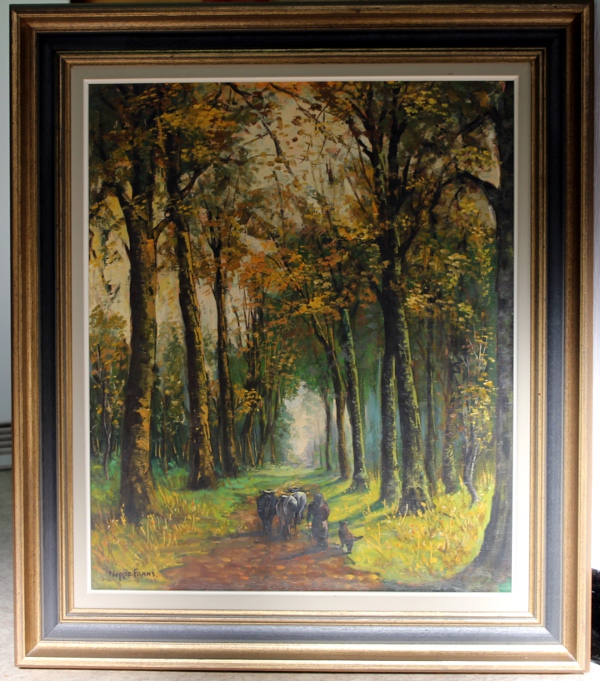 75 Euro
The Logos Shop (Bomastraat 26-28, Gent) is opened every day during office hours (09:00-17:00) as well as on concert-days, on which the shop opens before and after the concert, as well as during the intermission. You will be received by our collaborators Xavier Verhelst, Kristof Lauwers, Yvan Vander Sanden, Sebastian Bradt, Moniek Darge, Barbara Buchowiec... who can assist you with any special request.
Most items can be purchased also via mail-delivery. For CD's, prepay the correct amount in Euro augmented with 1.25 Euro mailing costs (within Flanders and Wallonia) on one of our accounts:
Postal Check account: 000-0489070-93 IBAN: BE98 0000 4890 7093 BIC: BPOTBEB1 (for international transfers)
BNP Fortis Bank account: 290-0016395-23