Logos on the road
Concert at "ISSUE Project Room"
Concert at "ISSUE Project Room" in Brooklyn New York on Nov. 18th Music by Logos Women (Françoise Vanhecke and Moniek Darge).
Moniek Darge from the Belgian Logos Foundation has been soundscaping since the '70s. Her soundscapes try to paint an aural picture of different locations in the world. Recently she has also created collective soundscape compositions with other female composers.
At the ISSUE Project Room in NYC she will present some of these works. The 3 days Issue festival (Nov. 17-18-19) features also work of Fluxus artist Alison Knowles, with whom Moniek collaborated already during the 80ies and the New Zealand soundscaper Annea Lockwood, about whom Moniek published an article for Gynaika. The Logos Women concert of the 18th will also feature Françoise Vanhecke and guest, Kye editor and soundscaper Graham Lambkin.
The most recent soundscape of Moniek (2011) brings sounds from Tamil Nadu in India and evokes the aural worlds of nature, rituals, commercial music and traffic. The composition, a commission by Issue Project Room, was made possible with the support of the Flemish government.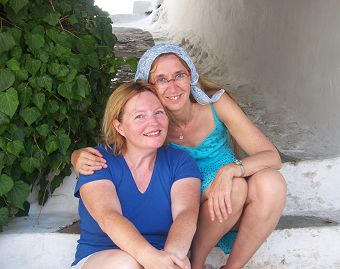 Another soundscape composition she will present is a collective work with singer, composer Françoise Vanhecke. They will perform "East Crete, Mother Goddess", which is entirely compiled of sounds from Crete.
After soundscaping for some years in south west Crete with mainly nature sounds as the result, we decided to try our chances in the better-known part of the island. We settled down on the east coast and started our sound hunting ... you'll hear the result.
The project is part of a larger artist event called Levka Ori, which takes place yearly in Crete. Artists from different media come together and what started off as a landart intitiative has become an intermedia event. The central location is a site high in the mountains which we named Magnesia, after Plato's famous Magnesia, attracting people to build a kind of utopian society. When standing on Magnesia all you hear is wind and you have a 360 degree-wide view of the mountains around. Quite an impressive experience. We have tried to evoke the atmosphere of the island with sounds and recall the ancient hope for a utopian society.
At ISSUE Moniek will also present her latest CD with soundscapes. It appeared on the American Kye label. It's a remake of her first solo LP "Sounds of Sacred Places". In most ethnic cultures, sacred places serve an important social function. "Sounds of Sacred Places" attempts to transform the listener into a living witness of the sounds of similar places in our surrounding culture.
With the support of the Flemish Government
Meer info op: http://www.issueprojectroom.org/2011/10/04/moniek-darge-fraoise-vanhecke-graham-lambkin