Microtonal Musical Robot
Flanders Robotics
<Booter>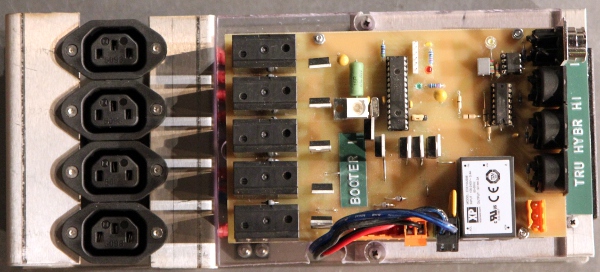 an automated boot helper for Hybr and HybrHi
Godfried-Willem RAES
2020
Robot-Utility: <Booter>
The one and only reason why we made this device, was to overcome a problem plaguing both our <Hybr> and <HybrHi> robots. The problems with them is that they fail to reset their controllers properly on power down. Only on cold boot, we can get rid of earlier controller settings send by users. The effect was, that after a piece using the extended pitch modification possibilities of these robots, the tuning became completely off. For long the only solution seemed to be to power them down and fire them up again for every new composition to be played. Obviously revising the firmware in the 48 ARM-processors seemed to be the most obvious solution. However, this was not really an option as the programming environment for the evaluation boards used here had vanished since the creation of these robots. After all they were made using develpment boards for the ARM processors and these boards are since long no more on the market. Hence we found another solution in designing a booter for both of these robots. This device takes now care of starting up and powering down of the robots such that users always get a 'virgin' machine at their disposal.
The microprocessor board to accomplish this, basically parses incoming midi and outputs it again, leaving out all commands that are not implemented on Hybr and HybrHi. On receiving a power-on command (Ctrl 66, with any non zero value), it will switch on the power relay used for powering up both Hybr and HybrHi. To achieve this a relay is used in the hardware, inducing a 8 ms delaytime. After reception of this command, we give both robots some time to start up properly (1.5 seconds) and only after that time has passed, ctrl 66 will be sent by the booter to the robots. During this time interval, the robots will be deaf for midi commands. The green LED on the booter board will lite up when commands can be sent.
After reception of a power-down command, the power relay is switched off and again a delay is inserted to make sure all capacitors on the robots are fully discharged. During this time, again, no commands can be sent to the robots.

Circuit:
PCB: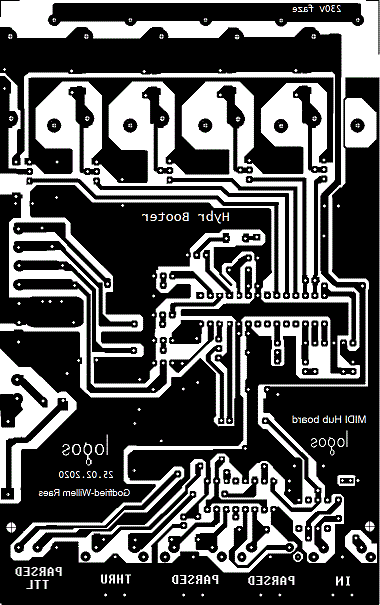 With soldered components: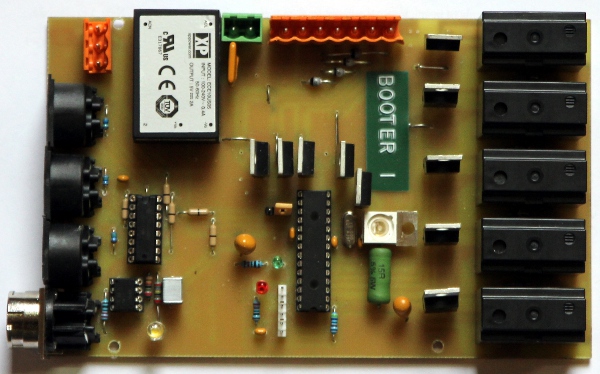 Final result: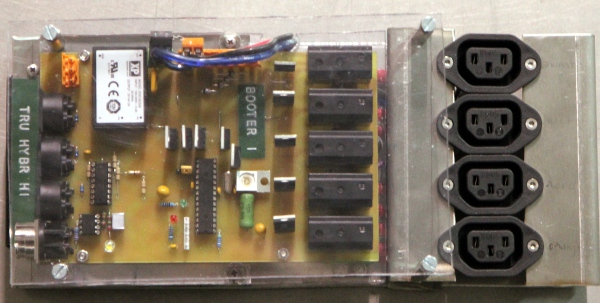 Design and construction: dr.Godfried-Willem Raes

Midi implementation:
As long as controller 66 is ON and startup time has passed, all midi commands implemented on <Hybr> and <HybrHi> are passed thru on the two DIN Parsed-midi out connectors. The third DIN connector is a simple MIDI-Thru, without parsing.
Some extra features are implemented on this device:
Lights: mapped op notes 12,13,14,15,16 (as yet, 12,13,14,15 are not connected)
External mains power sockets (IEC, female) , under midi control mapped on notes 24,25,26,27. Note-On, Note-Off implemented.
Midi Channel: 9 (1-16) or 8(0-15).
The lights on <Booter> are controlled with note-on/off commands mapped on the notes 12 to 15. For lights 12 and 13, the velocity byte steers the luminance. For notes/lights 14,15,16 the velocity byte steers the flashing speed. With velo=127, the lights are switched on without flashing.
Techical specifications:
size: w: 120 x d: 280 x h: 80 (in mm)
Flightcase size:
weight: 3kg
transportation: Can be taken as checked luggage in airplanes.
Power: 100 - 240 V ac / 10 W. At rest, power consumption is less than 3W. Fused with 10A fuse, slow.
control: MIDI-input, 1 MIDI-Thru (differential), 2 MIDI-Out to connect to Hybr and HybrHi (differential)
midi channel: 8
Insurance value: 2.500 Euro.
De bronkode van de firmware (geschreven voor de Proton Compiler) , evenals de hex-dumps nodig om de chips te programmeren zijn beschikbaar via onderstaande links:
---
Bouwdagboek - Construction Diary:
24.02.2020: Design of the circuit and the hardware
25.02.2020: Design of a PCB for the circuit.
26.02.2020: Etching and soldering of the PCB. Missing components ordered from Farnell
27.02.2020: Designing the firmware for the microprocessor (18F2525) using the Proton8 compiler. First debugging and testing session.
28.02.2020: Designing the housing for the booter device.
29.02.2020: Construction of the housing. Mounting of all IEC power connectors and wiring.
01.03.2020: Assembling and connecting all parts. Just the polycarbonate protective cover is missing thus far.
02.03.2020: Polycarbonate cover finished. Tests with the Hybr and HybrLo robots connected.
03.03.2020: Should we make a complete enclosure?
15.06.2020: For some reason, the booter fails to switch the power for Hybr and HybrHi.
---
References:
Raes, Godfried-Willem, "Kursus Akoestiek", Ghent University College 1982/2013, Internet: http://www.logosfoundation.org/kursus/4023.html
Raes, Godfried-Willem, "Expression control in musical automatons", 1977/2020,
Raes, Godfried-Willem, "Logos @ 50, Het kloppend hart van de avant-gardemuziek in Vlaanderen", ed. Stichting Kunstboek, Oostkamp 2018 (ISBN 978-5856-605-8)
---
Kostprijsberekening:
Materialen:
| | | | | |
| --- | --- | --- | --- | --- |
| Omschrijving / item | aantal | kost per stuk | opmerkingen | subtotaal |
| Omron G4A1APE5DC relays | 10 | | Farnell | 79.38- |
| MAB5 SH DIN Sockets | | | Farnell | 54.84- |
| IEC outlets | | | Farnell | 85.33 |
| PCB | | | | 250.00 |
| XP-power smps 5V | | | Farnell | 27.00 |
| IEC power connectors | | | Farnell | 85.33 |
| Stainless steel | | | | 10.00 |
| mounting materials | | | | 25.00 |
| polycarbonate, 8mm thick | | | | 10.00 |
totale materiaalkost:
Werklast:
| | | | |
| --- | --- | --- | --- |
| data | uren | kost | subtotaal |
| 24.02.2020 | 4 | 180,- | |
| 25.02.2020 | 4 | 180,- | |
| 26.02.2020 | 10 | 450,- | |
| 27.02.2020 | 8 | 360,- | |
| 28.02.2020 | 3 | 135,- | |
| 29.02.2020 | 8 | 360,- | |
| 01.03.2020 | 7 | 315,- | |
| | | | |
| | | | |
arbeidskost:
Estimated end cost: 2.500,-