<Llor>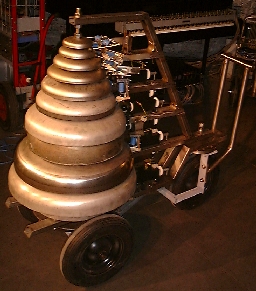 an automated shell carillon
Godfried-Willem RAES
2004 / 2017
<Llor>
This very heavy musical robot uses eleven large stainless steel (AISI 304L) shells of different diameters as sound sources, as well as a single antique bronze bell of similar shape. These twelve shells are either struck by strong electromagnets with a heavy beater, or with felt covered piano hammers driven by much smaller and less powerfull solenoids. The first method covers the f to fff loudness range, whereas the piano hammers cover ppp to mf and even allow for quasi sustained sounds by grace of their relatively high repetition rate capability. Although the sounds of this automat have definite pitch content in the inharmonic bell like sound, we do not classify nor use it as a pitched percussion instrument. The name given to this robot is a tribute to our friend and colleage composer/performer Llorenc Barber, who we saw playing shell like bells at so many occasions within the last 25 years. However, Llorenc's bells are made of normal iron (taken from gas containers) and suspended in a wooden frame.
The constructional parts for this robot, apart from the very sturdy wheel base, are all made from stainless steel. All welding was performed using the full manual TIG process, using pure Argon gas.
The entire circuitry for this robot makes use of three fast PIC controllers: Microchip PIC18F252 - I/SP type. The first one only controls the blue LED lights fitted on different places all over the instrument. The second microcontroller takes care of the largest eight solenoids and controls not only the striking force, but also the backwards (return) movement. The third micro steers all the smaller solenoids. The power supply is rated 48V/ 12.5A, allowing for full polyphonic operation even at high striking forces and repetition rates. The dynamic range of the instrument is very wide. In 2017 we upgraded the firmware and exchanged the 18F252 processors -as they became obsolete parts- with 18F2520 types. This upgrade did not entail any change of the hardware.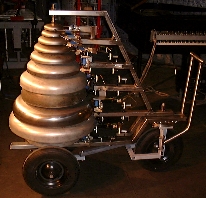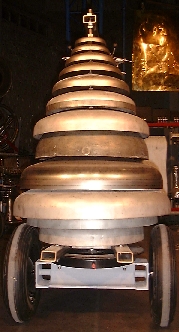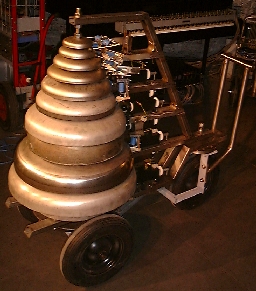 Mapping:
Midi note range: 36-59 (hard-beaters on 36-47, soft beaters on 48-59) , lights (blue) mapped on notes 1,2,3,4,5. For those who like to see this in traditional music staff notation in the way we hear it: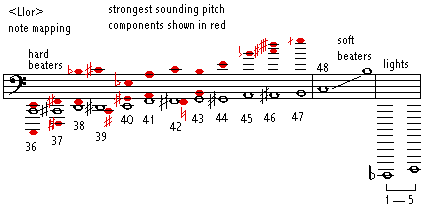 After FFT analysis, we get the following result: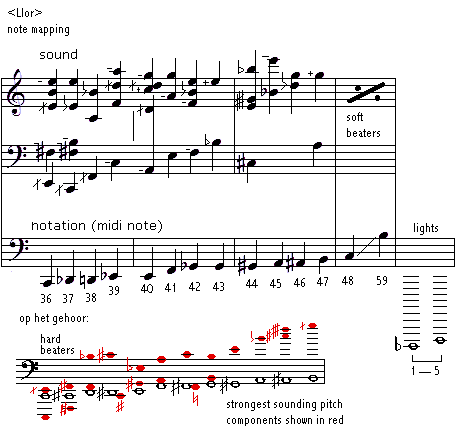 (More detailed spectral analysis data can be found in the table further down on this webpage).
For midi files played by our <GMT> software, there is an 'intelligent' playing modus available, which you can switch on by sending controller 72 with a value higher then zero (value 0 resets to absolute mapping as described here above). In intelligent mode, our software will try to find a note that corresponds to the correct pitch of the given midi note, where the value of the controller determines the allowed deviation in cents. If, in this modus, no matching note is found, nothing will be played.
Midi implementation table:
The midi channel for Llor is 11 (counting 0-15)
Midi status
byte 1
byte 2
function
notes
128 + channel
note (1-5= lights, 36-59= beaters)
note release byte
release for notes 36 to 43
if non-zero, this steers the speed wherewith the bidirectional solenoids will return on reception of the note-off command.
144 + channel
note
velocity byte
for the lights, the velocity byte has no function
160 + channel
note
key pressure
steers the repetition rate
note repetitions are stopped with the note-off command. Note that the actual rate may depend on the velocity in use as well as on the setting for controller 31. The repetition rate can never be faster than the sum of the attack pulse and the return pulse.
176 + channel

#30

#31

#66

#72

global repetition rate

global return speed

power on/off

pitch mapping mode

#30 sets the repetition rate for all notes to the same value. By default this controller is set to zero.

#31 sets the return speed for all bidirectional solenoids to the same value. However return speed will always be >= the velocity value wherewith the note was sounded. The default value for this controller is zero.

#66 = 0 resets all controllers and repetition rates. On cold boot, this controller is allways zero.

#66 >= 1 enables the robot for playing

#72: enables automatic pitch mapping in the GMT player. This controller cannot be used in sequencers.

192 + channel
program change
-
not implemented on Llor
208 + channel
channel aftertouch
-
not implemented on Llor
224 + channel
lsb
msb
pitchbend
not implemented on Llor
Technical specifications:
size: w = 610mm , h = 1350mm, l = 1500mm
weight: 170 kg
power: 600W / 230V
tuning: cfr. table below
Ambitus: midi 36 to 59, remapped.
Midi channel: 11 (0-15) or 12 (1-16)
Insurance value: 12.000 Euro
Design, research and construction: dr.Godfried-Willem Raes (V1.0: 2004-2005 / V2.0: 2017)
Collaborators on the construction of this robot:
Bert Vandekerkhove (workshop assistent)
Xavier Verhelst (piano parts restauration)
Johannes Taelman (firmware PIC controllers, version 1.0, 2004)
Moniek Darge (requisites and materials research)
Kristof Lauwers (application code in GMT)
Music composed for <Llor>:
Moniek Darge & Kristof Lauwers: "36 views on the stuppa" , a choreographed collective composition (made for the premiere of the robot on december 23th, 2004.)
Sebastian Bradt "Llor solo"
Godfried-Willem Raes "GeroLlor", for a nude player and invisible instrument. (2005)
Godfried-Willem Raes "QuaLlor", for a nude player and the quadrada invisible instrument (2005)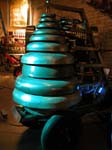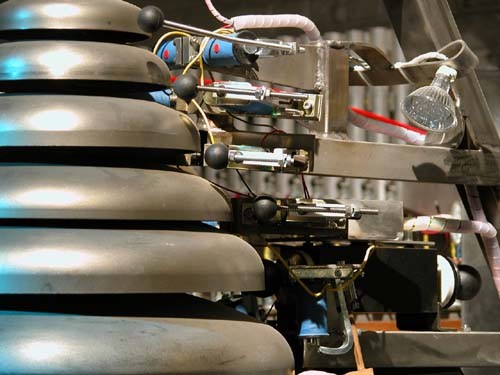 pictures by Benn Deceuninck (+)
---
<Llor>
Deze robot werd opgebouwd met zware inox schalen als klankbronnen. Dergelijke schalen (holle bodems) worden industrieel gebruikt voor de vervaardiging van kompressieketels, gasflessen en drukvaten. Omdat ze naar vorm overeenkomen met de schaalbellen waarmee onze vriend Llorenc Barber sedert vele jaren de wereld afreist, doopten we deze robot niet <shell>, maar wel <Llor>. Uit te spreken zoals in het spaans natuurlijk. De schaalbellen gebruikt door Llorenc zijn evenwel vervaardigd uit gewoon staal (deksels van gewone gasflessen) en opgehangen in een houten gestel voor manuele en orale bespeling. Inox heeft het grote voordeel heel wat harder te zijn dan gewoon staal en daardoor dus ook beter en langer te klinken. Onze schalen zijn vervaardigd uit Inox AISI 304L (werkstof nummer 1.4306, austenitisch). Het geluid lijkt een beetje op dat van lage klokken, maar het lage en zelfs subsonische gebied van het spektrum is hier heel wat sterker aanwezig. Daarom vormt <Llor> een ideale uitbreiding naar de laagte toe van <Belly>, onze klokkenautomaat. Vanzelfsprekend krijgen we ook in dit instrument te maken met klanken met een uitgesproken inharmonisch spektrum, wat op kompositorisch vlak natuurlijk heel wat nieuwe mogelijkheden biedt. Zoals blijkt uit onderstaande tabel liggen de subharmonische grondtoon (de zoemtoon, die vooral hoorbaar is wanneer de schalen zacht worden aangeslagen) en de meest prominente slagtoon een oktaaf plus (ongeveer) een kwart, tritonus of kwint uiteen. Het precieze interval wisselt overigens van schaal tot schaal in funktie van de niet konstante vormverhoudingen (diameter tot hoogte).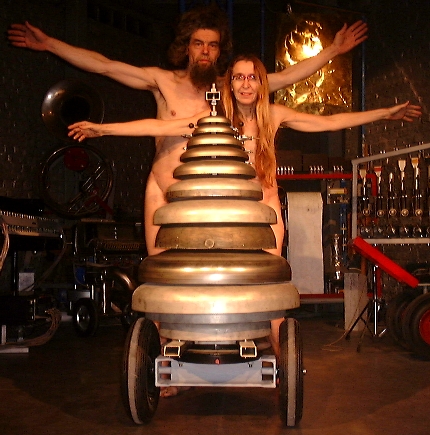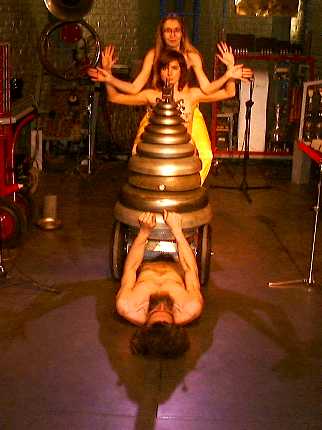 Afmetingen, exakte toonhoogtes en schikking van de gebruikte inox schalen:
diameter, wanddikte, hoogte

(in mm)

positie in Llor

(1= onder)

sterkste spektraalkomponenten (slagtoon en harmonischen) in fractionele midi getallen, in aflopende orde van sterkte.

midi-noot mapping

hard / soft

midi command
aantal kloppers

Weidmueller konnektor pin

PIC 1 Board

Weidmueller konnektor pin

PIC 2 Board

606 x 3.0 x 136
3

64.43

54.19

70.97

75.81

79.78

[24 - 40]

36 / 48

36 and 48: note + velo

for 36: noteoff + release

2
1, 2 PIC 1

1

RA2

556 x 3.0 x 84
4

53.72

70.61

63.65

75.99

36.42

37 / 49

37 and 49: note + velo

for 37: noteoff + release

2
3, 4 PIC 1

2

RA1

506 x 3.0 x 110
2

59.96

70.29

41.33

60.02

60.16

38 / 50

38 and 50: note + velo

for 38: noteoff + release

2
5, 6 PIC 1

3

RA0

456 x 3.0 x 95
6

62.37

44.68

72.25

78.76

74.40

40 / 52

40 and 52: note + velo

for 40: noteoff + release

2
9 , 10 PIC 1

5

RA4

406 x 3.0 x 90
1

64.99

65.09

47.76

80.62

74.60

39 / 51

39 and 51: note + velo

for 39: noteoff + release

2
7, 8 PIC 1

4

RA3

356 x 3.0 x 80
7

52.84

70.40

75.83

64.79

31.35

42 / 54

42 and 54: note + velo

for 42: noteoff + release

2
13, 14 PIC 1

7

RB7

306 x 3.0 x 65
8

58.22

76.31

31.35

43 / 55

43 and 55: note + velo

for 43: noteoff + release

2
15,16 PIC 1

8

RB6

256 x 3.0 x 60
9

64.02

82.01

48.93

68.24

92.59

44 / 56

44 and 56: note + velo

2
-

9, 10

f: RB5

p: RB4

205 x 2.5 x 46
10

70.07

87.85

31.35

45 / 57
45 and 57: note + velo
2
-

11, 12

f: RB3

p: RB2

155 x 2.5 x 40
11
79.11
47 / 59
47 and 59: note + velo
2
-

13, 14

f: RB1

p: RB0

130 x 2.5 x 34
12

72.86

79.02

46 / 58
46 and 58: note + velo
2
-

15, 16

f: RC5

p: RC4

historic bronze bell:
447 x 12 x 164
5

68.80

51.91

79.02

31.35

41 / 53

41 and 53: note + velo

for 41: noteoff + release

2
11, 12 PIC 1

6

RA5

LIGHTS (all blue)
-
-
midi note
connector pin
voltage

LICHT

LIGHTS

Frontaal grondlicht

Frontaal opwaartslicht

Achter bovenlicht

Achter onderlicht (may be always on)

Centaal bovenlicht

1

2

3

4

5

note on / noteoff

note on / noteoff

note on / noteoff

note on / noteoff (under investigation)

note on / noteoff

1

2

3

4

5

2x12V = 24V

2x12V = 24V

2x12V = 24V

5V on logic supply

48V
Elke schaal is voorzien van een hoofdklopper opgebouwd uit een Laukhuff 24 Newton bipolaire traktuur elektromagneet en een bakeliet M8 kogelknop voor de 8 grootste schalen. Deze acht elektromagneten worden bestuurd door de eerste PIC mikrokontroller (PIC1 board): hiermee kan niet alleen de aanslagkracht worden gestuurd, maar eveneens de kracht en snelheid waarmee de magneet terugkeert naar zijn terug-positie. De 4 kleinere maken gebruik van enkelvoudige elektromagneten. De besturing maakt gebruik van de tweede PIC controller (PIC2 board) waarmee de duur van de toegevoerde bekrachtigingsspanningspuls nauwkeurig kan worden geregeld. De terugslag (snelheid/kracht) wordt hier niet door de mikrokontroller geprogrammeerd en bestuurd, maar gebeurt met behulp van een veer. De terugslagkracht voor de grote magneten kan worden bestuurd middels controller #31 en ook middels het note-off kommando voor de betreffende schaal. De besturing van de terugslagkracht is dus alleen mogelijk bij die schalen die door bipolaire elektromagneten worden aangestuurd. Dat is dus voor de midi noten 36 tot en met 43. Deze kloppers zijn, vanwege hun grote massa, niet in staat tot heel snelle repetitie. Om ook dat te bereiken, monteerden we op alle schalen ook minder krachtige maar aanzienlijk snellere extra kloppertjes, met een zachte aanslag. Hiermee kunnen ook lang aangehouden klanken worden voortgebracht. De hiervoor gebruikte elektromagneten betrokken we eveneens van de firma Laukhuff maar bouwden we om, door er enerzijds een vilten pianohamer op te monteren en anderzijds zowel een terugslagveer als een met een M3 boutje instelbare trajektbegrenzing.
Van alle afzonderlijke schalen werd een geluidssample opgenomen en aan een spektraalanalyze onderworpen. Komponisten die Llor in eigen werk willen gebruiken kunnen daarvan gebruik maken. De samples evenals de analyse data worden ter beschikking gesteld.
De derde mikrokontroller PIC3, gemonteerd op het midi-input board, staat in voor de besturing van de lichteffekten waarmee deze automaat is uitgerust. Hiervoor werden uitsluitend blauwe high-efficiency LED's gebruikt. De lichten werden in de midi implementatie gemapt op de noten 1 tot en met 5.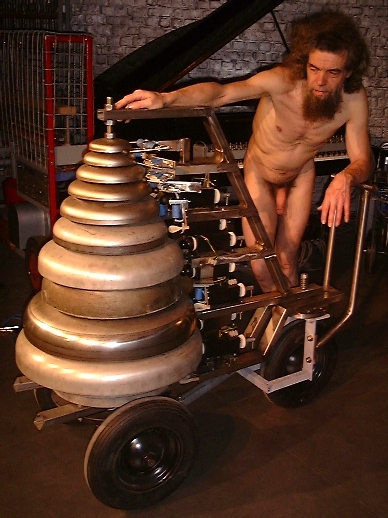 Bouwdagboek:
Omdat ons vaak wordt gevraagd hoeveel werk en tijd kruipt in, en nodig is voor, het bouwen van een muzikale robot, hebben we ook voor <Llor> een beknopt bouwdagboek bijgehouden:
15.01.2004: aankoop inox schalen. Akoestisch onderzoek van de eigenschappen
16.02.2004: eerste ideen en konkrete tekeningen.
26.08.2004: laswerk wielbasis dubbelwiel op 40cm kranslager.
16.09.2004: ontwerp vertikale steun voor de schellen uit 20mm inox stang.
19.09.2004: merken en boren centergat 3 schalen.
22.09.2004: zaag, boor en laswerk vork voorwiel
23.09.2004: draaibankwerk as voorwiel.
25.09.2004: Inox laswerk stuurstang - aanhechting op voorwiel via bevestigingsplaat. Het stuur zal demonteerbaar zijn. (4 inbus Inoxbouten 12mm)
26.09.2004: Inox zaagwerk basisdraagstruktuur (50x30x3) onder 60graden verstek. Lassen inox dragers.
27.09.2004: Staal onderstel met kruisdisselbesturing afgewerkt en in zinkfosfaat gestoken. Teflon lagers achteraf te monteren. Eerste test opstand op M20 inox tige. Drie schaalbellen (1,2,3) voorlopig gemonteerd. Centergat uitgeboord tot 20mm.
28.09.2004: Montage vertikale stang M20 met tussenbuisjes inox 25mm. Onderste schaal: 406mm x 3mm, h=90mm (schaal 1 in de tabel). Deze schaal heeft dezelfde diameter dan het kogelkranslager van het onderstel. Montage eerste besturingsmagneet op onderstel. Schaal 2 gemonteerd (506x3x110).
29.09.2004: Montage tweede en derde besturingsmagneet voor schalen 2 en 3. Bouw prototype elektromagnetische pianohamer met terugslagveer en trajektbegrenzing. De pianohamer voor de onderste schaal moet horizontaal worden gemonteerd.
30.09.2004: Verdere bouw elektromagnetische pianohamers.
05.10.2004: eerste studie van de noodzakelijke PIC mikrokode.
06.10.2004: M3 draad getapt in alle soft elektromagneten. Konsoles gelast voor deze magneten voor de laagste drie schalen. Llor kan van hetzelfde midi-kanaal (11) gebruik maken als <Belly>. Levering inox flenzen en 25mm buis van Demar-Lux. Schaal 4 nog niet geleverd.
07.10.2004: eerste opmeting stemming schalen 5,6,7. 20mm centergat geboord in schaal 7. Lassen konsole voor soft-hamer schaal 3. Opschuren pianohamers. Lassen afstandsbus M20 tussen schaal 2 en 3.
08.10.2004: bronzen bel uit magazijn opgediept. Overweging om die ook in Llor op te nemen.
09.10.2004: schaal 8 gecenterd en uitgeboord op 20mm .
20.10.2004: Levering inox voor de verdere konstruktie.
29.10.2004: opschuurwerk pianohamer voorraad door Xavier Verhelst.
05.11.2004: levering ontbrekende inox schaal. Uitboren centraal gat in bronzen bel. Eerste voorlopige montage van 9 schalen.
06.11.2004: Schalen 9,10,11,12 gecenterd en uitgeboord op 20mm.
07.11.2004: Montage van 12 schalen. Zagen en lassen verbindingsstuk tussen draadstang van de schalen en draaipunt wiel. Zagen en lassen drager elektromagneet voor schaal 4. Ontwerp konstruktie drager voor elektromagneten 5 en 6.
09.11.2004: ontwerptekeningen dragers voor elektromagneten hoger liggende klankschalen.
10.11.2004: konstruktie drager voor elektromagneten 7 en 8.
11.11.2004: montage grote elektromagneten 7 en 6 en twee soft-tone kloppers voor schalen 4 en 5.
12.11.2004: alle harde en zachte kloppers voor schalen 1 tot en met 8 afgewerkt. De schalen 9 tot en met 11 vergen een ander ontwerp, vanwege de kleinere massa van de schalen.
13.11.2004: laswerk dragers elektromagneten voor schalen 9, 10 en 11 uitgevoerd. Elektromagneten gemonteerd.
14.11.2004: Elektromagneetdragers en kloppers gelast voor schaal 12. Draaiflens voorwiel afgelast. Eerste fotosessie.
15.11.2004: ontwerpen draagstruktuur midi board en 5V voeding. Montage trekveertjes op elektromagnetisch aangedreven pianohamers. Bijstelling schaalhoogtes op centrale as.
21.11.2004: Ontwerp midi-input board.
25.11.2004: Volledige demontage schaalbellen van de centrale as. Start definitieve montage met afstandbussen en knelmoeren. As vastgelast op chassis.
26.11.2004: Montage 48V/13.5A SMPS power supply onderaan chassis. Afdraaien inox moer voor draaizitje op flens.
27.11.2004: Montage 5V/4A voeding. Ontwerp drager PC boards.
28.11.2004: start bedrading elektromagneten.
30.11.2004: dichtlassen profielgaten. Schuren schaalzitje op vooras.
02.12.2004: Laswerk dragers bovenlichten.
04.12.2004: Lassen voorbumper met 4 blauwe LED-spots.
05.12.2004: eindmontage frontaal licht. Twee gescheiden kringen: 1= grondlicht, te mappen op midi noot 1. 2= opwaarts frondlicht, te mappen op midi noot 2.
09.12.2004: knoeiboel met de service van Plot&Go (Eurocircuits). De prints (besteld 17.11) zijn nu nog steeds niet geleverd. Bovendien zit hun web-form vol java bugs.
10.12.2004: meer blauwe LED-spotjes germonteerd. Toplicht (48V) te mappen op midi noot 3. Boven-achterlicht op midi noot 4.
11.12.2004: alle elektromagneten bedraad. Kabelbomen aangelegd en voorbereid voor aansluiting op de Weidmueller konnektoren.
12.12.2004: konstruktie printdraagstruktuur & afwerking bedrading Weidmuellers. Afwerking bedrading lichten en voedingslijnen. Elektrische tests op de gehele schakeling. Ventilator in 48V voeding geblokkeerd wegens veel teveel lawaai.
13.12.2004: nieuwste PIC implementatie doorgestuurd naar Johannes Taelman.
14.12.2004: repetitie met Nicoletta Branchini.
15.12.2004: eerste clean-up van de inox oppervlaktes.
17.12.2004: klachttelefoon naar Eurocircuits... Levering prints zou voor maandag zijn...
18.12.2004: ontwikkeling besturingssoftware in GMT.
20.12.2004: wellicht wereldrekord snelsolderen gebroken vandaag. Printen geleverd om 10u32, allemaal gesoldeerd en bestukt tegen 11u30. Montage op Llor klaar om 12u00... Nu nog de PIC's.
21.12.2004: eerste werkende versie van de 3 pic controller klaar... Llor speelt zijn eerste automatische nootjes.
22.12.2004: control software geschreven in GMT voor evaluatie en tests.
23.12.2004: Premiere van <Llor> met 36 views on the stupa van Moniek Darge
28.12.2004: design of one more blue LED spotlight from the back.
30.12.2004: bestelling super wide-angle cmos video pinhole kamera.
14.01.2005: bug report opnieuw naar Johannes.
15.01.2005: partij voor Llor voorzien in 'Spring94'.
27.01.2005: Upgrade firmware voor PIC2: mapping corrected.
17.03.2005: Llor voor de eerste keer op reis: naar Leuven, de nieuwe reeks.
21.03.2005: Llor implemented in Quadrada Vectorial.
10.04.2005: Llor code test en debug in QuadraLlor.
13.04.2005: Pitch mapping funktie toegevoegd aan GMT. (ctrl #72)
14.04.2005: Bug in pitch mapping solved: mysterious pitch common to many bells appeares to stem from induced 50Hz hum in the recordings used for feeding the FFT.
13.06.2005: Felt piano hammers hardened somewhat with very liquid varnish. Rebounce spring replaced on one of the solenoids.
02.02.2007: GMT implementation upgraded.
11.02.2008: Some bugs in the GMT player for Llor killed.
01.02.2009: Hammers readjusted.
13.05.2009: Llor used in 'Flash', Sacred Robots concert at Logos.
09.01.2014: Some erratic behaviour reported. We need to check it out. After all, it has been playing for ten years now!
25.03.2014: Failure on Llor: repair required.
15.05.2014: Llor checked. ok now.
12.10.2017: Failure reported on Llor, after residency of Leonardo Barbadoro. Check required. Midi wiring checked o.k. We might have to do with a PIC failure... Llor taken out of the robot orchestra for revision.
13.10.2017: Thorough testing after removing some dust reveals no errors... Hammers readjusted.
14.10.2017: New code written for PIC1, upgrading the processor to 18F2525, as the original type 18F252 became obsolete, Midi implementation changed and extended. Coding for autorepeat added. Coding for the bounce back functions in the bidirectional solenoids changed. Controllers #30 and #31 added in the midi implementation. Ctrl. #66 added as well.
15.10.2017: Version 2.0 for PIC1 ready. First testing. Rescaling for velo-values is required.
16.10.2017: Velo's for PIC1 rescaled. This works o.k. now. First version for PIC2 written. To be tested. Scope tests passed.
17.10.2017: Mapping corrected. Documentation file had bugs! PIC2 changed for a 18F2620 type, with more memory. We may need this if we want to implement individual velo scalings for each hammer. Note 52 found defective: the wire soldered on the solenoid was found to be loose. <Llor> is back to working conditions now. Documentation updated.
18.10.2017: <Llor> demonstration in the Logos Robotorchestra Concert in the Tetrahedron with dancer Emilie De Vlam.
19.11.2017: <Llor> gets a central place in our production for 'Kinderkunstendag'.
14.07.2018: Failure on Llor... shaky midi or power supply failure?
15.07.2018: The 4N27 optocoupler found defective. We first tried to replace it with a CNY17-4, with no result. With a TIL111 it worked again and <Llor> passed all tests. Llor has an important role in our production of 'Relache' by Erik Satie.
07.08.2021: <Llor> rechecked and found o.k.
---
---
Last update: 2021-08-07 by Godfried-Willem Raes
---
Technical data sheet and maintenance instructions:
elektromagneten / solenoids:

August Laukhuff trakturmagnet 301081: - 24V bipolair - 24 Ohm, 1A Kracht: 24N, Trajekt 15-25mm. M8-draad.
August Laukhuff hefmagneet 300110: 24V - 140 Ohm-170mA. Kracht 4.9N bij trajekt 5mm, 9.8N bij 2.5mm. Voorzien van vilten pianohamers. Trajektbegrenzing aan te brengen in onderstuk door boring 2.5mm en tappen schroefdraad M3. Met de ingebrachte bout kan het terugslagtrajekt worden begrensd. Terugslagveer: Erics, trekveer
August Laukhuff trakturmagnet: 24V - 10N

Power supply: Sunpower SPS-600P-48, 48V-12.5A (600Watt). Het teoretisch piek-stroomverbruik bij 48V is 17.36A (alle magneten bekrachtigd). Aangezien de duty cycle <= 50% is en de pulsduur voor de bekrachtiging beperkt is tot 50 ms, kunnen we volstaan met 8.68 A mits de buffer elkos voldoende groot (47mF) worden genomen.
Wheels: diameter 380mm , Kaiser & Kraft. As: 25mm, gedraaid.
Schematic diagram:
Board 1: PIC controller for bidirectional solenoids
PIC1 board picture:
Board 2: PIC controller for single solenoids:
PIC2 board picture:
Board 3: Midi input and light-control PIC:
Midi input circuitry: