Over Stichting Logos
Stichting Logos is Vlaanderens uniek professioneel produktiecentrum voor nieuwe muziek. Naast de eigen produktie doen wij ook aan technologisch onderzoek naar de ontwikkeling van nieuwe muzikale expressiemiddelen. Hier vindt u meer algemene informatie en wettelijke gegevens over de Stichting.
About the Logos Foundation
The Logos Foundation is Flanders' unique professional non-profit organisation promoting new musics and related arts by means of new music production, concerts, performances, composition and technological research projects and other contemporary music related activities. You can find more official information about the Foundation here.
U kan bijdragen tot een historisch moment voor Stichting Logos: Bouwfonds
Beste vrienden,
We hebben in september 2011 het magazijn, palend aan onze Tetraederzaal aangekocht.
Zoals u weet kampten wij met een schrijnend plaatsgebrek o.a. door het gestaag groeiend robotorkest. We kregen hier dus een eenmalige en unieke kans die we zeker niet wilden laten voorbijgaan.
Maar... de koopsom lag behoorlijk hoog: het gaat om 250.000 €(kosten inbegrepen). Daardoor beschikken we nu niet over de nodige middelen om de noodzakelijke verbouwingen en aanpassingen in dit gebouw aan te vatten. We vernieuwden alvast het hele dak en plaatsten een nieuwe vloer in gepolierd beton. Maar ook elektriciteit- en akoestische isolatiewerken dringen zich op. Bovendien kwamen we sedert 1 januari 2017 helemaal zonder strukturele betoelaging te vallen, waardoor onze nog eens extra groot is geworden. Daarom hebben we uw hulp harder dan ooit nodig.

U kan ons een milde schenking doen(waarvoor u een attest van ons krijgt, zodat u het bedrag mag aftrekken van uw inkomstenbelasting). Dat kan via een overschrijving naar één van de rekeningnummers hieronder of via dit Paypal-knopje:
Wij zijn u enorm dankbaar en willen we u als bewijs hiervan vermelden op onze website en in ons elektronisch Logos-Blad. Verkiest u anoniem te blijven, dan respekteren wij dat vanzelfsprekend ook.
Alvast hartelijke dank bij voorbaat! U kent Logos en u weet dat het geld goed besteed zal worden. Vooral jonge musici en klankkunstenaars zullen aan de slag kunnen gaan in ons nieuwe pand.
Met vriendelijke groeten,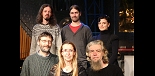 Godfried-Willem Raes en Moniek Darge
Steunfonds
Als je zelf de toekomst van Stichting Logos, het Robotorkest en onze andere fantastische projekten wilt helpen verzekeren, zijn stortingen welkom op:
pcr: 000-0489070-93 IBAN BE98 0000 4890 7093 BIC: BPOTBEB1
fortis: 290-0016395-23 IBAN BE92 2900 0163 9523 BIC:GEBABEBB
op naam van Stichting Logos, Kongostraat 35, 9000 GENT
Giften vanaf 40 Euro zijn fiskaal aftrekbaar.
Voor meer informatie over het steunfonds, fiskaal aftrekbare giften en legaten aarzel niet om ons te bellen (+32 9 223 8089) of te .
Duolegaat
Wil je de erfenis voor je erfgenamen vergroten en tegelijk Stichting Logos steunen? Dan kan je kiezen voor een duolegaat. Een duolegaat is een beschikking per testament. Naast familie en vrienden kan je ook Stichting Logos opnemen in je testament. Door Stichting Logos en je erfgenamen elk een deel te geven, krijgen je erfgenamen minstens evenveel centen en mogelijk zelfs meer. Dat komt omdat Stichting Logos de successierechten volledig voor haar rekening neemt. Stichting Logos moet een lager percentage betalen aan erfenisrechten, waardoor er minder naar de fiskus gaat en waardoor het nettobedrag dat je erfgenaam overhoudt groter wordt. Bovendien steun je een bijzonder goed doel. Wie dat wil kan zelf bepalen waarvoor Logos de centen kan gebruiken. Logos staat er garant voor dat het bedrag volledig wordt besteed aan de doelen van jouw keuze. Zo kan je bijvoorbeeld de ontwikkeling en instandhouding van het robotorkest, de uitbouw van de infrastruktuur, specifieke artistieke projekten... specifieren. Voor meer informatie kan je kontakt opnemen met onze notaris, Christophe Delrive.
Individual donors
If you would like to help ensure the future of the Logos Foundation, the Robot Orchestra and our other fantastic projects, you are welcome to donate to one of the following account numbers:
post office: 000-0489070-93 IBAN BE98 0000 4890 7093 BIC: BPOTBEB1
BNP: 290-0016395-23 IBAN BE92 2900 0163 9523 BIC:GEBABEBB
in the name of Stichting Logos, Kongostraat 35, 9000 GENT
Donations of at least 40 euros are tax-deductible in Belgium.
For more information about donations and tax deductions, please call us (+32 9 223 8089) or .
Steunfonds 2016 - Donors 2016
dr.Godfried-Willem Raes (Vl)
Dorothea Merchiers (Vl)
Beyst-Schils (Vl)
Valerie Bouckaert (Vl)
Sam Undewood (UK)
Gaston Maldeghem (Vl)
Rik Staelens (Vl)
Katie Couck (Vl)
Moniek Darge (Vl)
Thomas Lenk (USA)
Kris De Baerdemacker (Vl)
Francoise Vanhecke (Vl)
(6 x anoniem)
Steunfonds 2017 - Donors 2017
dr.Godfried-Willem Raes (Vl)
Dorothea Merchiers (Vl)
Moniek Darge (Vl)
Thomas Hamilton (USA)
Felix Bousies (Vl)
Valerie Bouckaert (Vl)
Giacomo Di Tollo (It)
Gaston Maldeghem (Vl)
(1 x anoniem)
Subsidierende overheden - Government sponsors
Vlaamse Gemeenschap (Kunsten en Erfgoed) DAC
Stad Gent
Corporate sponsors
Do you want to link your company name to one of Flanders' most exciting and innovative arts organisations? Perhaps you're interested in supporting the use and development of robotics technology in the arts? Or maybe you'd like to arrange a concert by the Robot Orchestra for your company day? For more information about what we can offer you, please call us (+32 9 223 8089), or just come along, or .